In Memory
Frank Allison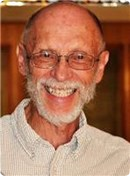 Frank Allison, 75, of Farmington, NM, passed away May 9, 2018. He was born September 19, 1942 in Scottsbluff, Nebraska to C.Neil and Alice Allison.
The two greatest gifts Frank gave his family were to love the Lord and your family with all your heart and soul, and to love all of God's creation. He taught his children and grandchildren to love the outdoors with a never ending passion and appreciation. We spent countless days with him hiking, fishing, camping, hunting, skiing, and studying rocks, plants, and animals. We all feel the closest to Frank outdoors, because the outdoors is where Frank felt the closest to God.
Frank's passions were skiing, woodworking, reading, and teaching. His teaching career began in Littleton, CO, spanning over 30 years and ending in Farmington, NM. Here in Farmington he started at Bluffview Elementary and then moved to Northeast Elementary where he taught until his retirement. His teaching wasn't just confined to the classroom though. He was a teacher everywhere he went. Frank taught everyone he interacted with how to be kind, and how to treat other people. Frank was the most humble, gentle, gracious man you could ever meet.
Frank touched the lives of so many people and will be greatly missed by all. Frank is preceded in death by his parents C. Neil and Alice Allison. He is survived by his loving wife Shanna Allison; sons Mark, Christopher and Billy; daughter Michelle Kafka; sisters Sue Schobert and Nancy Renneke; grandchildren Jessica, McKenna, Clinton, Martin, Caelan, Cady, Aria, Charlie, Jaron, Austin and Tristan; his best friend Wayne Mietty.