In Memory
John (Jac) Reynolds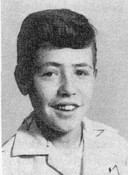 Former Gering, Neb., resident John W. "Jac" Reynolds, 43, of Lake Elsinor, died Thursday at Corona from injuries received in a truck accident. Cremation will be held in California.
He was born Jan. 2, 1942, at Scottsbluff, Neb. He grew up and attended school at Gering. He served in the U. S. Navy for seven years. After his discharge, he was employed by American Kawasaki in California for 10 years before starting his own trucking company.
Survivors include his wife Pat; daughters Kacy of Chino Valley, Ariz., and Sandy and kathy, both of Los Angeles; mother Juanita Reynolds of Gering; brother Mike Reynolds of Gering; sister Pat Manka of Melbeta, Neb.; and a granddaughter.
He was preceded in death by his father and a sister.