In Memory
Jeannette Pennock (Brehmer)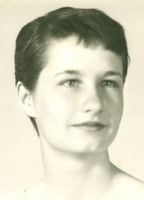 Jeanette "Jeanie" D. (Pennock) Brehmer, 71, of Scottsbluff passed away at her home Saturday, Nov. 9, 2013.
A memorial service was held at 2 p.m., Friday, Nov. 15, 2013 at Dugan-Kramer Funeral Chapel with Father Phil Flott officiating inurnment followed at West Lawn Cemetery. A memorial was established to the American Diabetes Association. Tributes of sympathy were posted at www.dugankramer.com.
Jeanie was born Dec. 2, 1941, at Cheyenne, Wyo. to Frank and Violet (Empkey) Pennock. She attended Gering High School where she was a member of the marching band, as lead trumpeter. She graduated from Gering High School in 1960. She married William Brehmer, Sept. 6, 1960, and the couple made their home in Scottsbluff. Jeanie is best described as "firecracker" in a tiny little package, who was feisty and spoke her mind. She loved animals and fed anything that wandered onto the family porch, including a possum. She will be greatly missed by her family and friends. Survivors include her husband, William; children, Angela Sullivan, William Brehmer, Jr., Daniel Brehmer and Erin Brehmer; seven grandchildren; and brothers, Andy and Bill Pennock. Preceding her in death are her parents, sister, Donna Pennock and son, David Brehmer.