In Memory
Mick Boley VIEW PROFILE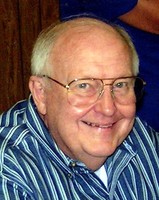 V.M. "Mick" Boley, age 63, of Oak Ridge, passed away Sunday, Dec. 18, 2005 at his home. Mr. Boley was born March 4, 1942, in Knoxville, Iowa, to the late J.R. and Hope Boley, and was raised in Gering, Neb. He attended Colorado State University and was a veteran of the United States Air Force who served in Bangkok, Thailand during the Vietnam War.
Mick loved to spend time with his family and church friends, build, remodel, and landscape. He was a member of the National Rifle Association and the Oak Ridge Sportsman's Association. He was a Corn Husker and Oak Ridge football fan, and he was a member of the Spoken Word Church in Kingston, Tenn.
He is preceded in death by his father-in-law, Joe Young, and brother-in-law, Marcus Young.
Mr. Boley is survived by his wife, Valorie Young Boley; sister Suzy Boley Reich and husband Ronnie of Sioux City, Iowa; mother-in-law Dee Young of Oak Ridge; sister-in-law Barbara Young Wilks and husband Bill of Alvarado, Texas; brother-in-law Douglas Young of Knoxville; Kenton Young and wife Donna of Oak Ridge; sister-in-law Carol Young Gassaway and husband Richard of Oak Ridge; nephews J.D. Reich, Marcus Young, Joshua Young, U.S.A.F., and Justin Young; nieces Erica Boley Lembke, Cheryl Wilks Griffin, Tricia Wilks Ouille, Stacey Young, Angela Young Clapp, and Elaine Young; and special church family from the Voice of God, Jeffersonville, Ind.; Bible Tabernacle in Mountain Home, Ark.; Evening Light Message Church in Thayer, Mo.; Faith Tabernacle in Panama City, Fla., and Spoken Word Church in Kingston, Tenn.
Memorial service will be held at 8 p.m. Wednesday, Dec. 21, 2005, in the chapel of Martin Oak Ridge Funeral Home with Brother Charles Hyde officiating.
Click here to see Mick's last Profile entry.